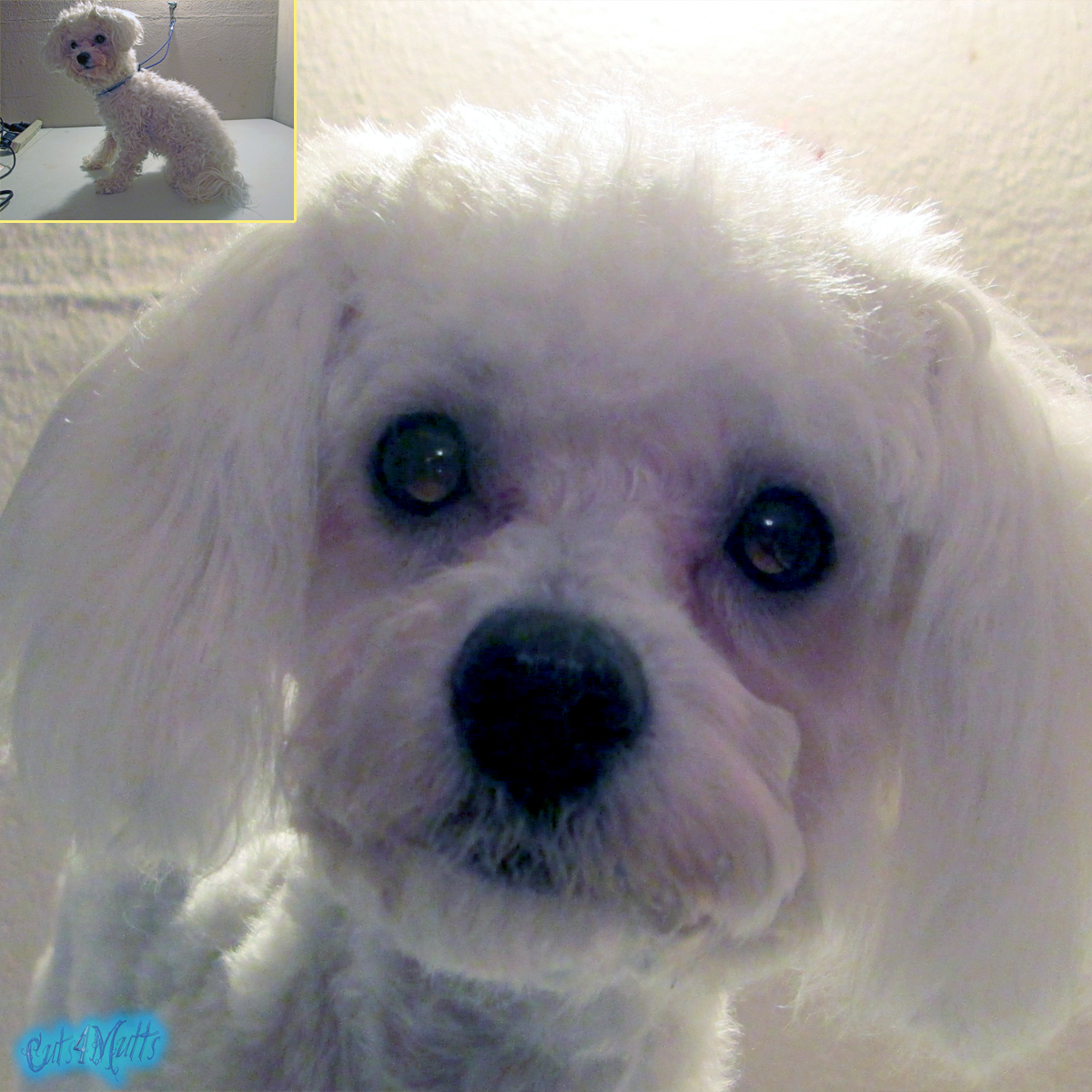 Washing a dog at home is the best way to keep your dog looking great in between grooming appointments. A good dog bath can make dog not only look better, but feel better, too. Washing a dog that is white, or light in color often presents a challenge to some pet parents. White dog breeds such as bichon, poodle, westie, and maltese are quick to show dirt, residue, and other stains, and if not cleaned immediately, can permanently stain your dog's coat. We have seen it all at Cuts for Mutts Dog Grooming Phoenix,  white dogs that have turned a dingy yellow color. Others that have even gotten into paint, oil, or gotten dirty from playing in the garden. Whether you have a smelly dog, or just a dirty dog, no matter what your reason for needing a dog bath, brightening and whitening should be your number one concern.
If you are going to be washing a dog at home, make sure you are using a shampoo that is formulated for your dog's hair/skin type. Whitening shampoo is a great choice for dogs with white or lightly-colored coats. Just be careful about which products you choose. Some of the whitening shampoos found at big retailers are too harsh for sensitive skin. Whitening shampoos serve a variety of purposes, from brightening a dingy coat, to even bleaching a stained coat. If your dog's coat is stained, you should consult a professional groomer to use a blueing shampoo. Too much of a good thing can turn your dog a purple/blue color, so use whitening shampoo in small amounts.
Whitening Treatment Includes:
Mixing of Blueing treatment

Application of blueing mixture on stained spots
Brightening Shampoo dog bath
Quick Tips For Washing a Dog at Home
Before you get started on your dog bath, gather all of your supplies first. Make sure you have access to everything you need before you get started. You never want to leave your pet unattended in the tub.
Supplies Needed:
Before you begin to wash your dog, use a slicker brush to untangle any knots or matting. Set your dog in the tub, and saturate your dog with lukewarm water. Apply a small amount of whitening shampoo to your dog's coat, concentrating on problem areas such as feet, beard, and ear tips. Allow the whitening shampoo to rest on your dog's coat for 3 minutes, or follow the instructions on the bottle. Use a fine tooth metal comb under the eyes to clear away tear stains. Rinse well, and fluff dry.